LONDON SHOW ANNOUNCED FOR SATURDAY 6th MAY @ ELECTROWERKZ
7 Torrens St, London EC1V 1NQ
Following the first shows in Germany we've been back in the studio working on some unfinished tracks. We have a one-off live show in London on May 6th courtesy of Synth Club Live. Tickets available here
So join us for the fireworks!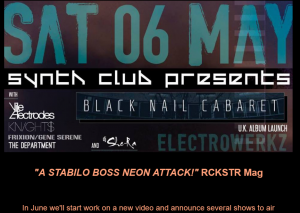 "A STABILO BOSS NEON ATTACK!" RCKSTR Mag
In June we'll start work on a new video and announce several shows to air the new material. Contact the following people for booking info
epicentre-booking@gmx.de (Germany)
jeff0005@hotmail.com (France)
contact@knights101.com (UK)
CD/DOWNLOAD/VINYL AVAILABLE
CLICK HERE TO ORDER
LESS THAN 60 LEFT!
1. WHAT'S YOUR POISON?
2. SO COLD
3. WHAT WE LEAVE BEHIND
4. MIAMI KNIGHT$*
FEATURING 4 TRACKS PRODUCED BY MARTIN DUBKA (TYSON/ALI LOVE/TESLA BOY) AND *MAETHELVIN